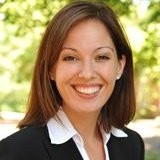 Jane Stewart, Director of Sustainability at Washington & Lee University
Washington & Lee University (W&L) is a liberal arts college located in the picturesque Shenandoah Valley in Virginia. In May 2022, the university announced it had entered into a power purchase agreement (PPA) with solar energy developer SunEnergy1 for 11 megawatts of clean, solar energy—pushing the university over the finish line of its 100% clean electricity goal.
Coho advised W&L on this deal. We interviewed Jane Stewart, the university's Director of Sustainability, to capture how they got the deal done and what other universities and small organizations can learn from their experience.
W&L's leaders have long been committed to reducing climate impact. What has influenced and motivated that commitment?
Jane Stewart: Climate action at W&L was sparked by the American College and University President's Climate Commitment (APUCC) in 2007. That initiative recognized that higher ed has a distinct role to play in addressing the climate crisis.
Most college and university campuses have significant physical infrastructure. We provide housing, education, dining, transportation, and even healthcare to thousands of students. We're heating and cooling and lighting a lot of buildings, so we have significant carbon footprints.
We are also home to research, fact finding, critical thinking, and innovative ideas. Our faculty can contribute to climate solutions and our students can apply what they learn about climate solutions in their future professional lives. Understanding our actions as part of this broader effort, with its enormous potential for impact, was really empowering.
W&L's mission statement includes a commitment to developing in our students the "capacity to think freely, critically, and humanely," and to prepare them "for responsible leadership, service to others, and engaged citizenship in a global and diverse society." Effective climate action speaks beautifully to this mission and university goals at a fundamental level.
This deal has been in the works for several years. What barriers blocked your path and how did you overcome them?
We sought a project that would meet a number of requirements: it had to be in our utility grid, not environmentally or socially disruptive, the right size, and financially responsible. We're a small buyer in a market that favors scale, so finding everything we wanted was challenging.
We were making progress, but then came FERC's MOPR rule, which impacted pricing. And then came additional tariffs which impacted pricing and panel supply. And then came the COVID pandemic, which impacted everything!
For a detailed explanation of the market barriers Jane describes here, read our blog Where Did All the Projects Go? A Supply-Side Analysis of the Renewable Energy Market
Despite these setbacks, we remained focused on our goal to advance new renewable energy capacity in our region and on the project elements that were non-negotiable for us. We were able to do this because our advisors at CFR were as committed to our goal as we were. It's only because of their great partnership that we were able to ride out all the challenges and arrive at this deal that we are so excited about.
How did you select this project? What about its location and characteristics made it attractive to you?
This project is the needle in the haystack we were seeking. It's located in our grid, does not require clearing forests or disrupting native species, is just large enough to meet our capacity needs, and is close enough to our campus for students to visit.
The developer is based in the state where the array will be built, a level of local connection that's reassuring in a market that can feel very multi-national. They have worked with higher ed clients before and included educational access to the project as part of the deal, meeting another one of our project goals.
We also liked that major permitting was complete for this project, which gives us confidence that it can be operational in the time frame projected, but it still needed a catalyst to become a reality. We feel like we are actually integral to the project moving forward and to adding grid capacity, which meets our goals better than, say, buying into a project that was already complete.
For more on how to assess the development risks of a project under consideration, read our blog The Hidden Risks in Offsite Project Development.
How will this deal impact the university's finances and ability to deliver on its strategic objectives?
W&L has committed to a campus carbon neutrality goal and this project is a huge step forward. To make such tremendous progress toward a major strategic target without capital expense is no small thing! But the structure of the PPA also provides us some buffer against the potential extremes in electricity pricing by positioning us as both buyer and seller in the same grid. We expect that W&L will see an increased net present value over the life of the project.
From W&L's announcement:

"Steve McAllister, W&L's vice president for finance, said the new solar project is anticipated to generate a net present value gain of $1.8 million over the next 20 years, effectively setting the energy production costs for W&L's electricity purchase for the next two decades at a level currently below the market rate.

'I can say that in my 20 years as the vice president for finance, this is the most significant agreement that I have had the privilege to enter into,' McAllister said. 'This is a very significant development in our efforts to achieve our sustainability goals in meeting our commitments in the President's Climate Initiatives as well as our ambitions in the Strategic Plan.'"
We often hear about huge corporations, especially in tech, buying up tons of renewable energy. W&L is not a giant organization. How was your experience different as a relatively small buyer? What additional support did you need?
You are right, we are definitely not a giant organization! We are a small liberal arts college and we do not have a renewable energy procurement department. The learning curve on this was steep, but we had great resources as we built our understanding of the renewable energy market and our options.
The first was Second Nature, which is the evolution of that original ACUPCC I mentioned earlier. It was at their national conference that I first learned about the concept of a large-scale offsite array.
Through Second Nature, we met our other great resource, Coho. Representatives from Second Nature and Coho even came to the W&L campus where we hosted a workshop for colleges and universities in Virginia interested in learning about large-scale options and ways different schools could work together to leverage buying power. The focus was so distinctly on educating us—we were able to explore ideas and options in partnership with people who shared our goals—rather than delivering a sales pitch. That was huge.
We also received valuable support from the broader higher ed community. Comparing notes and sharing strategies with peers at other colleges and universities and learning from those who had completed these kinds of projects ahead of us was a tremendous asset. We are all very aware that, when dealing with the climate crisis, ultimately none of us succeed unless we all succeed, and we are very eager to move forward as fast and as far as possible—together.
Jane Stewart shows students an onsite solar thermal array on the rooftop of the undergraduate library.
How did you, as the Director driving this project, balance the concerns and interests of a broad set of stakeholders including faculty, students, staff, finance, leadership, and your regional community?
I was in the extremely fortunate and perhaps unusual position of working for a Vice President for Finance who saw the value of the off-site/ PPA approach and worked to advance it from a very early stage.
Similarly, the University President understood that the project would allow us to meet our renewable energy goals within the strict framework of the Virginia regulatory environment and was very supportive. Throughout the process there was a feeling that the environmental and financial aspects of the project model were really well aligned and there was great administrative support.
It is also important that our faculty, staff, and students feel great about the project. A PPA is complicated and can feel a little abstract, so I made sure the process responded to their questions and concerns. Beginning very early in our project search, I shared our goals and options with faculty, staff, student groups, classes, and local community members. We have a really informed and engaged community here, and I wanted to create as many opportunities as possible for people to share feedback on our plans, even if it was negative—especially if it was negative!—knowing that ultimately we'd benefit from that input as we reviewed potential projects.
Taking this inclusive approach gave me confidence that we were on a well-supported path once we found the right project.
What advice do you have for an academic institution, hospital campus, or other similar organization that is pursuing a 100% clean electricity goal?
If you are starting from scratch, it is helpful to seek out information from non-profit organizations and peers as a first step to understanding broadly the various ways this goal can be met, and the pros and cons of different approaches.
Then find a great advisor. The market is complex and it is absolutely worthwhile to have an expert on your side as you work through options. I cannot overstate what a fantastic partner Coho has been to us in this process.
Lastly, it sounds so obvious, but I think it's important to have a very clear idea of what exactly, fundamentally, you are trying to accomplish and make sure everyone from your organization involved in the project has the same understanding. Because the market is complex and often fast moving, there is a danger of making decisions that are overly influenced by time pressure, cost, convenience, etc., all aspects that can push internal stakeholders in different directions. Having really clear parameters around your desired outcomes allows you to take a deep breath and ask, does this option really accomplish what we want?
What's next on W&L's sustainability journey?
There's a long list! In the very near-term, we will stop selling bottled water on campus this summer as a first big step in a broader effort to reduce waste through smarter purchasing. And a little further on the horizon but hugely exciting, we're mapping out next steps for decarbonizing our heating plant!
There are so many opportunities on the horizon for common sense changes we can make on campus that move us closer to our environmental goals but also support education and deliver operational efficiencies. We have some great momentum right now, and we are going to make the most of it.